I'll let you figure out what F.A. Obama means…
Mic
helle Obama: "Dessert is not a right."
Later, she added, "As I tell my kids, dessert is not a right."
Wait a minute isn't she one of the idiots that said healthcare is a right, housing is a right, high speed internet is a right, gay marriage is a right, pretty much everything is a right except the right to bare arms and freedom of speech those they have a problem with… well those and dessert.
This women… and I use that term loosely is under the impression – much like her idiot husband – that we care what they think or say. Oh I guess there are a few lemmings out there that do fawn over every word they say but that is a quickly shrinking number. She says dessert is not a right – well who ever said it was? For that matter who ever said healthcare, housing, internet, transportation was a right? I checked the constitution and it's just not there. Hell, I thought dessert was a food – so wait a minute – the liberals think that food is a right otherwise we wouldn't have food stamps, WIC, commodities etc so if food is a right and dessert is a food, ergo dessert is a RIGHT DAMMIT now bring me a piece of pie women, NOW!
But in addition to her babbling about fat kids all while her wide ass blocked out the sun – the NAACP a single race oriented group is condemning the non race specific groups of the Tea Party of being racist despite the lack of evidence. Well, the lack of real provable evidence…
Michelle Obama Rouses NAACP Before Vote Condemning 'Racist' Elements of Tea Party
The resolution of the NAACP says…
Tea Party members have used "racial epithets," have verbally abused black members of Congress and threatened them, and protestors have engaged in "explicitly racist behavior" and "displayed signs and posters intended to degrade people of color generally and President Barack Obama specifically," according to the proposed resolution.
However an ABC poll said…
The poll also found that 57 percent of people who opposed the Tea Party suspected its members of racial prejudice specifically against Obama. Only 10 percent of Tea Party supporters expressed such a sentiment.
Interestingly enough the MSM repeatedly fails to mention black or other minority Tea Party members or show them in news reports, in fact the MSM goes out of their way to exclude them – remember when a protester in Arizona with a AR-15? You saw the footage ran in a continuous loop on the drive-by media channels but what they didn't show you despite their efforts to convince you otherwise was that the protester was Black.
Come to think of it the NAACP has been long involved with the New Black Panthers (who are by the way members of the Nation of Islam) and the Old Black Panthers (who are also member of the Nation of Islam) and numerous other all Black racist groups and have yet to condemn them – I guess racism is only possible if you are White… or video edited to look White. Lord knows that Blacks are never ever racist – right?
I find the NAACP cries of racism against the Tea Party laughable – because in the NAACP eyes Black-Americans are suppose to be Black first, Black second, Black third etc. never does national unity cross their lips. It's always divided down the White/Black line with them, always.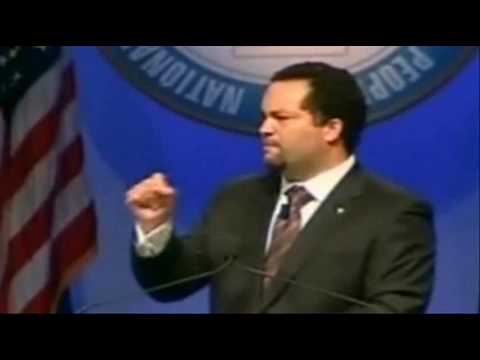 NAACP Condemns Tea Party "Racist Elements"
Moore reported that Jealous then turned his attention to the national tea party movement and called out its leaders."Expel the bigots and racists in your ranks or take the responsibility for them and their actions," Jealous said.

Moore reported that Jealous spoke to tea party members and said some have taken things too far."

We will no longer allow you to hide like cowards and hide behind signs that say 'Lynch Our President' or anyone else," Jealous said.

Jealous even mentioned the tea party's most well-known figure, Sarah Palin."Sarah Palin says, 'Let's party like it's 1776.' My white daddy would say be careful what you wish for because the 18th century, Sarah, wasn't good for anybody, even folks like you," Jealous said.
Sounds to me like Jealous is just jealous the Tea Parties success of being able to rally people and assemble large groups from all walks of life and races with government handouts and taxpayer freebies. But the real issue is the fact the clown is just making up his own reality as there have been on signs calling for the lynching of Obama or Holder as Jealous promoted – if there was wouldn't it be plastered all over the mainstream media and the liberal blogs? Wouldn't the Secret Service and Eric Holder be all over it? Would Robert Gibbs be out there reminding the public everyday? It's not – so where is it? Prove it or STFU! Am I going to have to pull a Andrew Breitbart and offer a $100,000 bounty for video proof? I'm betting my money isn't going anywhere.
But then again being called racist by the NAACP is akin to being called fat and ugly by Rosie O'Donnell.
Oh by the way did you know that the NAACP was founded by WHITES.
From El Rushbo today…
The birth of the NAALCP (National Association for the Advancement of Liberal Colored People), founders of the NAALCP were white, Mary White Ovington, journalist William English Walling (the last son of a former slave-holding family) and Henry Moskowitz.  Met in New York City January 1909 in what is credited to be the original meeting that led to the founding of the NAACP.  They were all white, and they were all socialists.  It wasn't until later that W.E.B. DuBois from Harvard and others were brought in.  Even so, the majority of the founders of the NAACP, later to become the NAALCP, were white.
One last thing the NAACP's mission statement is…
To promote equality of rights and to eradicate caste or race prejudice among the citizens of the United States; to advance the interest of colored citizens; to secure for them impartial suffrage; and to increase their opportunities for securing justice in the courts, education for the children, employment according to their ability and complete equality before law.
Seems that's all been achieved… guess they can disband now.
Will NAACP repudiate their own racist comments about Kenneth Gladney, caught on tape?
NAACP Anti-Tea Party Resolution Is Cheap, Cynical Politics
Your Daily Flaming Dumbass: The NAACP
Breitbart Exposes N-Word Lie on Hannity