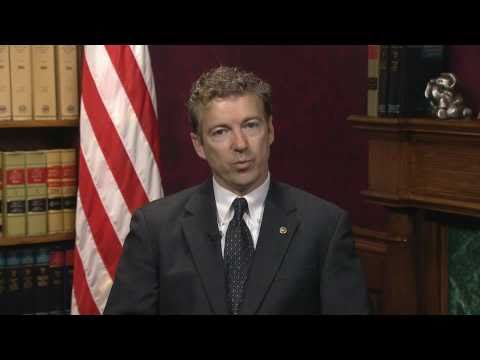 Rand Paul proposes $500 billion in federal budget cuts
FRANKFORT, Ky. (AP) — U.S. Sen. Rand Paul wants to slash numerous federal programs, including food stamps for the poor, to save $500 billion in a single year.

A legislative proposal Paul introduced on Tuesday would slash $42 billion from the U.S. Department of Agriculture's food stamp program — a 30 percent spending reduction. His proposal would eliminate numerous other programs, including the Corporation for Public Broadcasting, the Consumer Product Safety Commission and the National Endowment for the Arts.

Paul said the proposal would roll back federal spending to 2008 levels and eliminate what he considers the most wasteful programs.

The Kentucky Republican said he hopes his proposal will spark a dialogue within the Senate about how to repair the nation's economy.
Notice the AP right out of the box talk about the mean heartless Republican wants to cut food stamps to the poor… every see what's in the shopping of a poor food stamp shopper? I can't afford to eat that well every week why should they? Bring the stigma back – I'm not mean and heartless but let's face it why should you be able to buy chips, ice cream, cokes, candy, etc on food stamps. Save that stuff for people using this thing called money.
But the AP also pointed out mean ol Rand Paul wants to cut money to the Corporation for Liberal Public Broadcasting, the Consumer Product Safety Commission and the National Endowment for the Arts, because we tax payers need to pay for women to cover they naked bodies in chocolate… For the record I have no problem with chocolate, naked women or both together – but I don't think taxes need to pay for it. Recall… "Karen Finley, who is known for a performance in which she coated her naked body with chocolate to symbolize the oppression of women."
So anywho… Rand want to also get rid of the Department of Energy, the Department of Education and I say DO IT!! Since the inception of both energy has gotten more expensive and education has gotten worse with Government control. What has either done to improve anything?
Check out this list of ideas for cut and tell me we can't make these cuts - give it to me and I'll make even more…
Here are a painfully few examples of waste in the TSA that would like to Unionize and drive up cost…
· $526.95 for one phone call from the Hyatt Regency O'Hare in Chicago to Iowa City.

· $1,180 for 20 gallons of Starbucks Coffee — $3.69 a cup — at the Santa Clara Marriott in California.

· $1,540 to rent 14 extension cords at $5 each per day for three weeks at the Wyndham Peaks
Resort and Golden Door Spa in Telluride, Colo.

· $8,100 for elevator operators at the Marriott Marquis in Manhattan.

· $5.4 million claimed for nine months' salary for the chief executive of an "event logistics" firm that
received a contract before it was incorporated and went out of business after the contract ended.
So before I sign off for today I might add this little note… the two biggest programs that are breaking this country are both liberal created entitlement programs SSI and Medicare… everyone talks about how they are cost us trillions… so remember it was FDR that started SSI and LBJ that started Medicare … who in there right mind thinks for a minute ObamaCare is going to save money? Who? Well….? So when this country goes broke and we have to hang a forsale sign on the Capitol door – thank the liberals and their socialist programs.