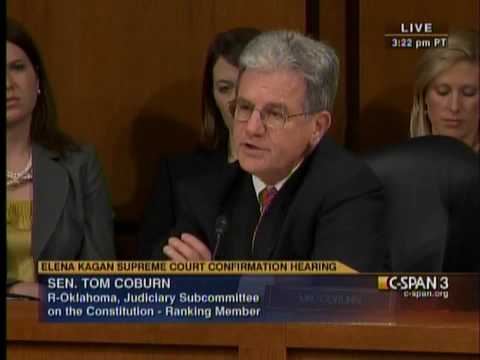 Well that was the question, but the real question involving the Constitution's Commerce Clause that Senator Colburn asked was "Can the Government tell you what to buy?" – as in insurance as laid out in the Obama healthcare reform bill. Forcing a private citizen to buy a product from a private vendor is a violation of the Constitution's Commerce Clause – Kagan refused to answer and as anyone knows a non-answer is a answer.
So Kagan equals a rubber stamp for Obama and to hell with what the Constitution says.
Oh it's worth noting that Kagan played dumb (I think she was playing, but you never know) and never effectively answered the question – which in short means that if the ObamaCare goes to the Supreme court and it's likely it will Kagan will side against the will of the people.
Sorry about the pithy post but I have to work, to pay taxes, so a bunch of lazy asses can set around and smoke crack.